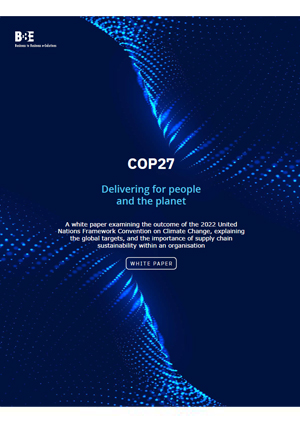 Learn more about the 27th Conference of the Parties to the United Nations Framework Convention on Climate Change (COP27). Read about the main outcomes from the summit, the expected global targets, and the role supply chain sustainability will play in the immediate future.
Chapter 1
1.    COP27 summary
Chapter 2
2.    COP27: The outcome
2.1. Loss and damage fund
2.2. Fossil fuels
2.3. Rising emissions
2.4. Climate finance
2.5. The impact of technology
2.6. New satellite-based system designed to detect methane
2.7. Adaptation Fund
2.8. Pavilion for children and youth
2.9. Leaders are pressed to do more
Chapter 3
3.    COP28: When and where
Chapter 4
4.    COP27: Supply chain sustainability
4.1 Transparency within the supply chain
4.2 Importance of action
Chapter 5
5.    B2BE supply chain automation
5.1. Document Management
5.2. Order to Cash
5.3. Procure to Pay
5.4. Visibility
5.5. Calculating carbon footprint
6.    Contact Us
White Paper: COP27
Fill out the form below to download the white paper. Fields marked with an asterisk (*) are required.