Industrial and Plumbing Supply Chain Management
Fixing the holes in your supply chain
B2BE products and solutions are built to uniquely support the industrial and plumbing industries multi-site ordering and complex supply chain models. While aiding in unlocking savings within your procurement, supply chain and accounts departments through B2BE's diverse range of integrated e-commerce solutions.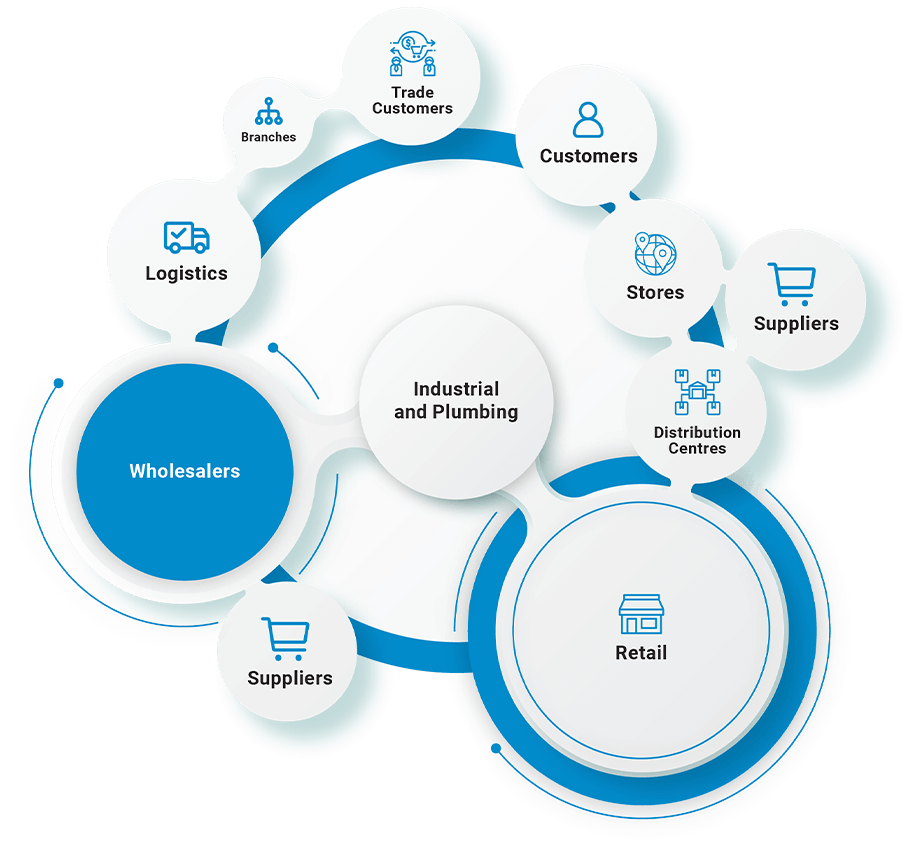 B2BE's EDI network allows industrial and plumbing buyers and sellers to trade electronically simply with one another and easily handles the subtleties of the industry's buying and selling approach. B2BE's cloud-based EDI also means your organisation doesn't need to worry about trading partners' document formats or transmission protocols, B2BE handles this for you.

Using EDI, not only automates supply chains by shifting from paper to digital documents, but also optimises them by reducing costs and removing manual data processing. Efficiency is similarly improved by streamlining workflow and eliminating manual processes. The utilisation of real-time information improves responsiveness while avoiding physical documents will also reduce your organisation's carbon footprint.
B2BE's Web Trader (Web EDI) solution allows wholesalers and retailers in the industrial and plumbing market to trade electronically with their suppliers when the supplier can't support a fully integrated EDI solution.

B2BE's Web Trader solution enables organisations to be more adaptable with suppliers. The solution is highly modular, allowing your organisation to run different process models with different transaction sets for suppliers within your supply network. It also enables configurable process models for different functional requirements and rules to allow suppliers to return required documents. For example, the wholesaler or retailer's purchase order is used to create a purchase order response or invoice, or both.
With B2BE's accounts payable automation solutions,are designed to improve productivity, efficiency, and accuracy in your accounts payable environment. B2BE's three-way matching solution will allow industrial and plumbing companies to utilise a fully outsourced invoice matching system designed to improve and increase first-time match rates, automate processes, and increase invoice throughput.

B2BE's expense invoices workflow is designed to manage expense invoices, no purchase order or goods receipt, through their approval and coding stages, ensuring invoice are approved, not lost and suppliers are paid the correct amount at the correct time.
Using B2BE's e-invoicing solution organisations in the industrial and plumbing markets can improve their processes, increase throughput, allowing accounts payable and accounts receivable teams to focus on adding value. An e-invoicing solution means no more manual invoices, whether supplier invoices or your customer invoices, 100% automation. B2BE's e-invoicing solutions is also designed to plug and play with B2BE accounts payable and accounts receivable solutions.
While e-invoicing will automate all your invoices the industrial and plumbing industry still generates many other documents within the supply chain as part of their Purchase to Pay and Order to Cash environments. B2BE's document distribution solution means, no matter how your supplier or customer wishes to receive a document it is always electronic from your organisations perspective and is on-sent as an; EDI, Web EDI, email, fax or via B2BE's print management solution. Making your organisation 100% electronic.
Helping your industrial and plumbing supply chain thrive
Industrial and Plumbing supply chain connections