FMCG Supply Chain Management
Moving your supply chain forward
In the fast-moving world of consumer goods, delivering goods the first time and in full is critical. The FMCG supply chain is highly structured to ensure goods reach stores efficiently and with minimal re-handling. Whether via a distribution centre and their networks or as direct deliveries. Each approach has very structured set of electronic trading, shipping and packing rules to manage thousands of suppliers and products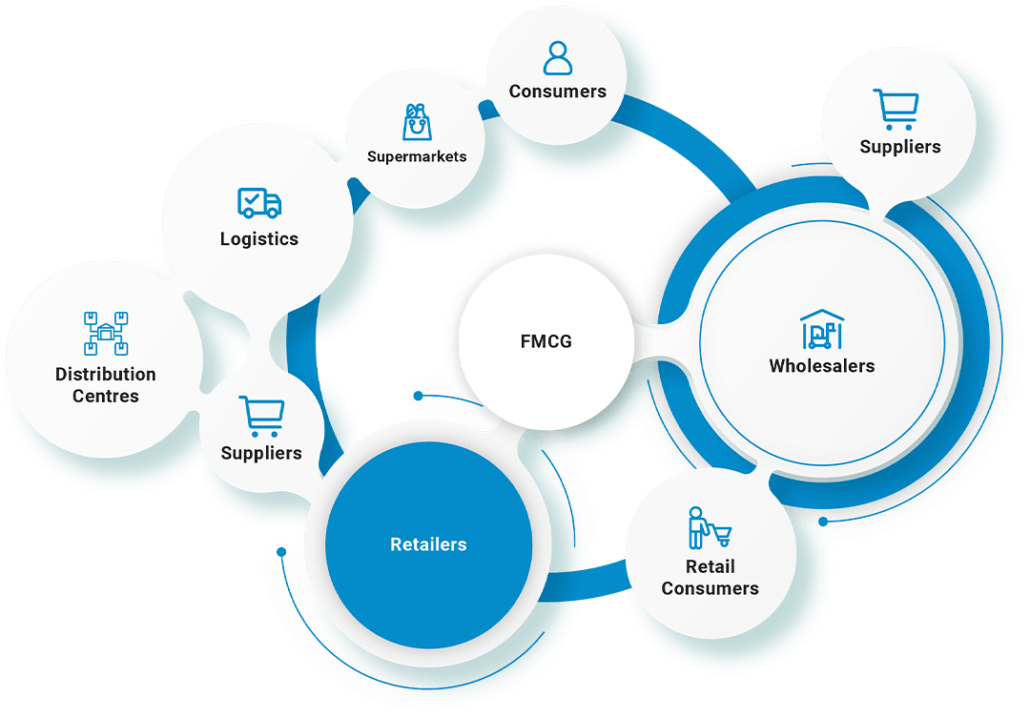 B2BE's EDI network handles any of the FMCG's document requirements whether you need to support a DC based cross-doc approach or ship directly. B2BE handles any document type or format and can intelligently rout documents to third party 3PLs, if required, who may manage your organisation's warehousing and shipping requirements, or data in reverse to update your inventory and stocking systems. Likewise, moving documents in and out of workflows to better streamline FMCG buyer's needs or into scan pack software for the picking and packing and ultimate creation of the ASN. The EDI network also includes Customer Centre access to give visibility and enable you to set up alerts and notifications to pro-actively monitor systems.
B2BE's Web Trader solution allows retailers or other buyers to trade electronically with suppliers who cannot support an integrated EDI solution or in some cases where some elements need to be managed outside an integrated solution. The solution is highly modular, allowing the buyer's electronic requirements to run different process models for suppliers within the FMCG supply network. DC or direct to store can be supported. It also enables configurable process models for different functional requirements and rules, all in one simple-to-use web interface which means suppliers can comply with the needs of the FMCG supply chain, technically and contractually.
The B2BE Scan Pack solution is a web based scan pack tool to enable your organisation to manage the picking, packing and shipping elements to meet the buyer's cross-doc or labelling requirements.

Once the goods have been picked and packed it manages the labelling requirements and produces the delivery confirmation or ASN which is then sent electronically which means you can easily support your FMCG customers no matter how they operate.
B2BE Web Portal solution helps to assist with overall visibility and provides users with a number of tools on either side of the FMCG supply chain. The Web Portal provides a secure login with user authentication, providing access to all B2BE products and services through a single interface. This solution includes access to a number of workflows to support electronic trading, access to historic documents and scan pack if you need a solution to support the picking, packing and shipping of your goods. Ultimately everyone in your business will then have visibility to ensure OTIF measures are met.
Helping your FMCG supply chain thrive
FMCG supply chain connections