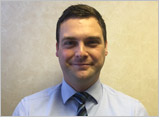 B2BE is delighted to welcome Jon Farley as its new Relationship Manager based in Birmingham, England.
Jon says his role as a B2BE Relationship Manager is "to build solid account plans for our existing customer base by ensuring we add value to their organisation and that we do this by drawing on the full range of B2BE products and solutions."
Jon comes from the document management industry. For the last 10 years he provided companies and government departments with records management solutions at TNT Business Solutions.
Jon was initially Operations Supervisor of the data capture team of 15 people.
When TNT won the Land Registry contract, Jon moved to TNT's newest archive facility, in Coventry. TNT uplifted and relocated 800,000 archive boxes, containing 88,000,000 individual land registration documents. As Operations Supervisor, Jon built the operational processes and recruited and trained 30 new staff.
Jon says "The project was completed without any impact to the customer and three months ahead of schedule. I'm particularly proud of my time during this period. The project went smoothly and without incident. Also 90% of the team we recruited has been made full time employees and are still there."
Jon then moved into a customer facing role as a TNT Account Manager. He was responsible for the growth and management of 38 customers, mainly in the government sector. He was selling the full range of records management products, including electronic document management services.
In 2015 he was promoted to TNT Business Development Manager and finished the year as the division's leading salesperson.
After 10 years with TNT, Jon was looking for a new challenge and TNT's loss is B2BE's gain.
Jon plays football at the weekends and is a self-confessed "massive" Aston Villa fan. Given Villa's current league position, this shows he is a very loyal person indeed.
He lives with Amy, his partner of five years, and they are getting married at the end of 2016.