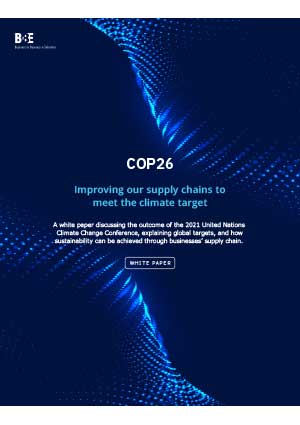 Download Our White Paper
COP26
Improving our supply chains to meet the climate target.

A white paper discussing the outcome of the 2021 United Nations Climate Change Conference, explaining global targets, and how sustainability can be achieved through businesses' supply chain.
Chapter 1
1. COP 26: Key Terms Explained

Chapter 2
2. COP 26: What happened and what was achieved?

Chapter 3
3. COP 26: Supply Chain Sustainability
Chapter 4
4. COP 26: Supply Chain Automation

Chapter 5
5. B2BE Supply Chain Automation
6. Contact Us
White Paper: COP26
Fill out the form below to download the white paper. Fields marked with an asterisk (*) are required.