Print Management Solutions
While you can automate many of your document management requirements there's still a need to print and post many documents such as invoices as some customers still prefer to receive paper.
While print and post is not the most efficient document management solution it can be automated by B2BE so you can send documents electronically to B2BE, like any other electronic document, and in fact it can be the same data stream. The printing and distribution process is then managed by B2BE so you don't need to deal with paper. 
B2BE can also consolidate and optimize the mail to reduce costs. Of course, if you have a full document management solution trading partners receiving paper can be migrated over time to a more cost effective and more efficient approach. Why continue to print and post documents when B2BE can manage all your document routing and channels?
The physical time to prepare and distribute mailed documents can be very time consuming and cumbersome. Managing stock and inventory levels, managing equipment and it's servicing and finally actually physically printing, folding and inserting articles into envelopes consumes a resources time.
Like any manual process, or where some automation is used, the chance of errors are higher. This increases risk, you do not want to send an invoice for one customer to another, for example.
Managing a sophisticated mail room is expensive. To reduce costs investment needs to be made into folding and franking equipment. Similarly stockpiles of envelopes, letterhead and consumables also need to be maintained which adds overhead and fixed costs.
Managing the equipment to manage the print and post process is labor intensive and fail over needs to be managed for employee absences. With smaller print and post requirements, where equipment isn't worth investing in, the labor element is increased exponentially.
The sheer fact that managing physical mail processes is tedious. Human resources can make mistakes when they're not concentrating and this has many flow on effects. Resources are expensive and can be used in an organization in many more productive ways.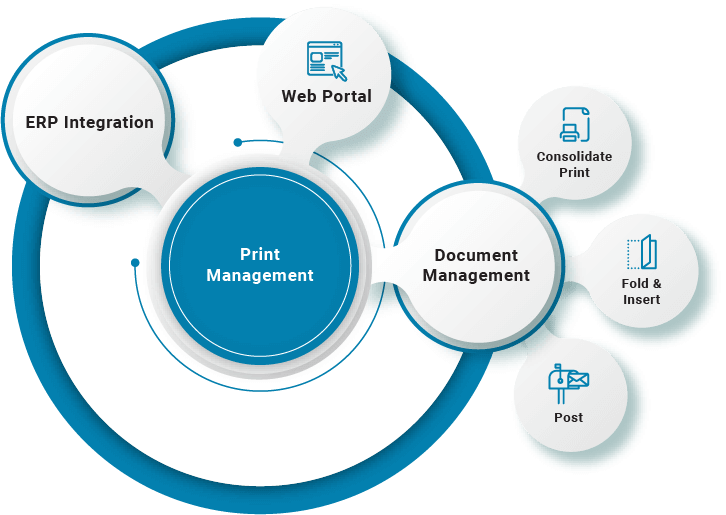 Our Print Management solution is a great way to automate the printing and distribution of physical documents to reduce your costs while helping to build a highly flexible document management solution.
B2BE's Print Management solution enables consolidation of documents to the same recipient to reduce the number of articles they receive and help reduce print and post costs. Similarly consolidation can occur over the week, or longer, so mail processes can be optimized to increase consolidation.
As with any B2BE Document Management solution you can see all the document sent via the Print Management solution and re-send documents if need be. This makes it easier for credit teams to see what is going on and monitor systems and processes when you send customer invoices, for example.
Address checks can be made on addresses as they pass through the system, or as an initial exercise to validate addresses to ensure the best rates can be applied. Automated notifications or rejections, if the address is unrecognisable can also be applied within the Print Management solution.
Let B2BE manage consumables so you don't need to. Whether you use plain paper or pre-printed stationary B2BE can manage all the consumables and their replenishment so you don't need to.
By removing paper document distribution from your organization you can reduce costs exponentially simply by not having the need for equipment and resources.
Combining B2BE's consolidation and clean mail processes B2BE can help to reduce your mail costs. Similarly leveraging from our consumable buying rates and their management can also help reduce overheads. Ultimately your staff can do more useful things with their time.
From your perspective B2BE will receive electronic files, format them to reflect your hard copy documents which means they're available online as PDF's and you no longer need to deal with paper. Similarly, the data feed B2BE receives can be the same regardless of whether the document is sent via EDI, email or B2BE's Print Management solution. Easy and flexible!
As with all B2BE's Document Management solutions the Print Management solution is auditable so all documents are available online and easily accessible and if need be can be resent. The document can also be resent via another method, email, for example.
Document Management migration
If you combine B2BE's Print Management solution into a Document Management solution you can easily move mail recipients to more cost effective and automated solutions without having to make any system changes. Move a customer receiving paper invoices to email or EDI, for example.