Procure to Pay Portal Solutions
The Purchase to Pay Portal gives your organisation the way in which you can collaborate with suppliers, between functions in your organization and more importantly giving you and your suppliers access to B2BE's range of well crafted Purchase to Pay (P2P) solutions which are all tailored to automate, streamline and manage your supply chain. 
The Purchase to Pay Portal allows you to setup suppliers so they can access their documents, use Web EDI solution, manage their own users and much more. While the solution also means complex retail or branch networks can also be setup to give them greater visibility and control of their supply chain processes and automation.
Limited supplier visibility of buyer processes
The more your organization keeps supplier processes and information hidden, or simply not easily made available, means the more effort will be involved within each function of your organization to manage the relationship. In some cases where there's limited visibility this may also mean that you end-up purchasing the wrong goods from the wrong suppliers effecting your bottom line.
Minimal information sharing
Sharing information in a more streamlined way means it's easier for suppliers to be responsive, easier to get the right goods at the right time and will improve your P2P environment. Limited information sharing means many parties in the process are left guessing and potentially making ill-informed decisions.
Many and multiple supplier touch points
Of course many organizations are complex, many people in the organisation can purchase goods, or have systems which are managing replenishment orders. All the touch points mean there's usually many documents flying around at different stages and phases of the buying process adding layers of complexity to track and trace.
Multiple issue resolution interactions
Sometimes suppliers simply don't know who to speak to, to resolve P2P queries or issues. Many different functions from procurement and finance are involved in the P2P process and sometimes the buyer can't necessarily see all the moving parts ramping up supplier support requirements.
Many P2P processes cannot be made available to suppliers. Either due to the sensitivity of having a third party in your environment or there's issues with licensing and or data restrictions. The greater levels of self service means the more the supplier is independent therefore, a reduction or need for personnel to manage suppliers.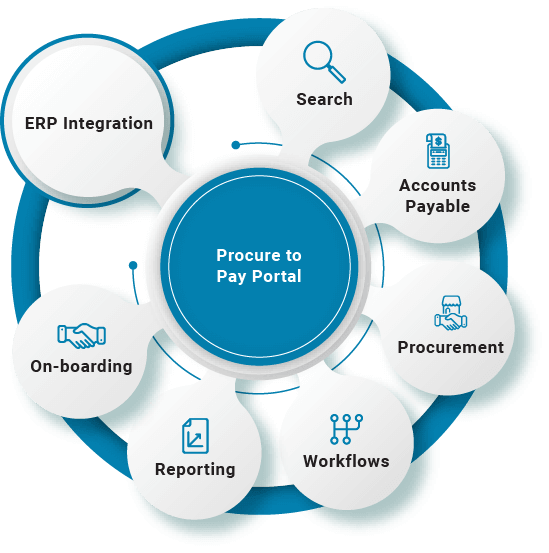 Our Purchase to Pay Portal allows you to setup suppliers so they can access their documents, use our Web EDI solution, manage their own users and much more.
The Purchase to Pay Portal gives users access to all the B2BE P2P cloud based solutions in a single solution which is profile driven to ensure users only see what they should see and more importantly what they need.
Secure access and P2P user management
Permissions mean you can add suppliers, your branch or retail network and restrict what they access and can see to give everyone visibility of the solution to get better buy in. In fact, users can manage the setup of their own users and groups if required.
The Purchase to Pay Portal can be branded to reflect your organizations' online look and feel and it can be accessed from your website, intranet or it can operate as a stand alone system. Either way, users will feel like they're using your own tools and solutions.
All the documents and transaction sets are available via the Purchase to Pay Portal which means all parties to the transactions have visibility of all documents that relate to them and also the documents that relate to one another to create a P2P transaction.
All the B2BE solutions are auditable to ensure that any action can be recorded and reviewed at a later date if required. See who's configured what and when, which documents they've interacted with or viewed and all the access logs.
Collaborative P2P environment
Collaborate in real time with your suppliers and organization to speed-up your P2P processes and collaborate more easily to ensure what you order and receive and pay for all align in the most efficient way possible.
Having a window into your P2P processes for your organization, your branch or retail network, suppliers and any other related parties means everything is in one place and you don't need to flip from one system to another to find the information you need.
All B2BE's P2P solutions and tools are highly configurable, cloud based and easy to use which means the solutions can be tailored not only to the industry your organization is in or services but more specifically to your organization, your users and suppliers.