Electrical Supply Chain Management
Connecting-up the electrical supply chain
The electrical supply chain is a highly integrated supply chain with many complexities which drive constant change and adaptation. Adaptation to standards, technological change, material availability and trends. Each step of the buying and selling process therefore has it's challenges to keep on top of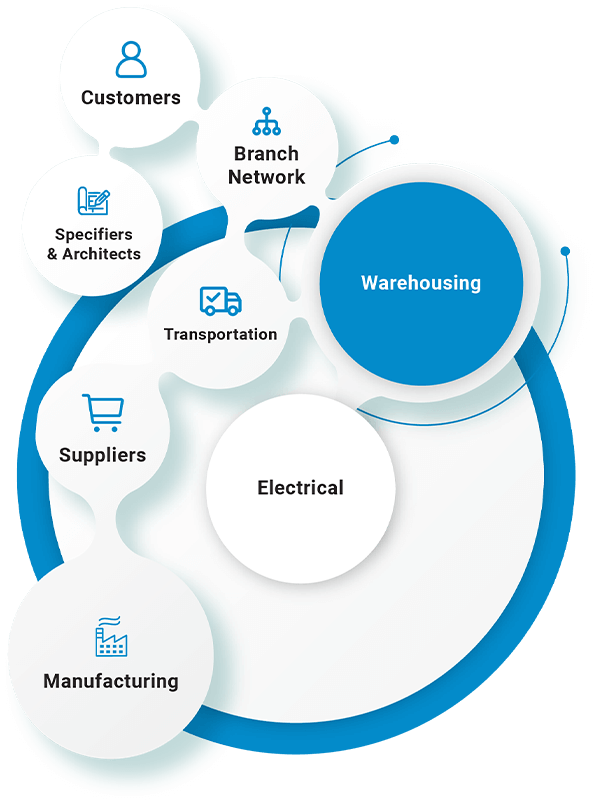 B2BE has over 20+ years experience delivering EDI solutions into the electrical industry supply chain. The EDI solutions means suppliers can trade with their customers and all the documents currently used in the electrical industry are supported. B2BE's validation and enrichment processes also mean that issues with the way buyer's buy and seller's sell in such areas as cable and lighting can be managed so documents can be integrated. B2BE's workflows also help both the buyer and supplier ensure they're getting the right information to ensure there are no hold-ups in the supply chain, particularly with purchase orders for quoted stock or specials.
With B2BE automating electrical wholesaler's accounts payable three-way matching , organizations' accounting will benefit from improved productivity, efficiency, and accuracy. The solution can manage invoice receipt processes to receive all supplier invoices electronically through fully outsourced solutions that can be configured to meet the specific needs and the solution in the electrical wholesale market. The solution has achieved over 95% first-time line match rates, the solution can manage specials and the unique buying within the industry as well.

B2BE can also handle expense invoices, their GL coding and approval so there's no lost invoices and suppliers are paid correctly and on-time.
Using B2BE's Sales Order Automation solution, electrical wholesalers and suppliers can better automate their customer's purchase orders which are received as PDF documents.

Using an OCR approach purchase orders data is captured and then treated as an EDI file which means enrichment and validation and workflows can be applied to the data to ensure what is integrated is accurate and ensures goods are shipped correctly and processes are more accurate and visible.
When your organization is able to distribute all your documents, particularly invoices, electronically no matter how the end customer needs them this gives your organization greater levels of flexibility. Whatever the route B2BE can automate this for you so you don't need to worry and you have the flexibility to change method quickly and easily which is greater for a supplier's wholesaler, customer or for a wholesaler's 'man in van' customers.
B2BE provide Web Portal solutions to assist with overall visibility within the electrical supply chain. Organizations access the Web Portal using a secure login with user authentication. This gives you and your trading partners and branches access to all B2BE products and services through a single interface. B2BE's Web Portal solution helps electrical organizations with document search and workflow, enable them to handle and rout documents while accessing a range of other Purchase to Pay and Order to Cash supply chain solutions. The solution is great way to manage self on-boarding and self fulfillment.
Electrical supply chain connections