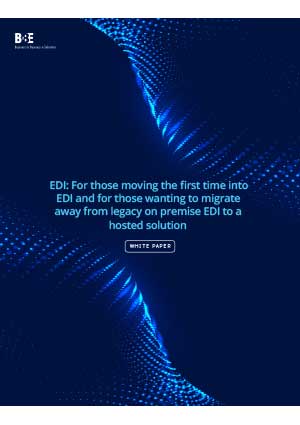 Download Our White Paper
EDI
For those moving the first time into EDI and those wanting to migrate to away from Legacy on Premise EDI to a Hosted Solution.
Chapter 1
1. Foreword
Chapter 2
2. Customer Experience
a. Definition
Chapter 3
3. Focal Points
a. Today
b. Customer Experience and Profitability
c. Touchpoints to the Organization
Chapter 4
4. Order Management
a. Goods and Services
b. Order Processing Departments
Chapter 5
5. Optimizing Customer Experience with Automated Order-to-Cash Technology
a. Digitization
b. Data Matching
c. Exception Handling
d. Document Archiving, Search and Retrieval
Chapter 6
6. Automating Order-to-Cash. Is it Rocket Science?
Chapter 7
7. Analytics, Visibility, and Scalability
Chapter 8
8. Contact Us
White Paper: EDI
Fill out the form below to download the white paper. Fields marked with an asterisk (*) are required.