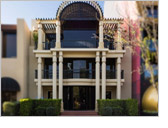 B2BE Melbourne has moved offices. After 10 years in its office on Albert Road, South Melbourne, B2BE Melbourne has moved (a big 300 meters) to 93 Palmerston Crescent, South Melbourne.
B2BE Asia Pacific General Manager, Daniel Tung said "When the lease ran out on our old building, we wanted to find a more permanent base for B2BE Melbourne. Our new office is just around the corner from our old one which is great for our staff and customers.
"B2BE operate a shared service operation from many global locations, so during the move there was a lot of operational back up and as our EDI and other services are in off-site data centres these are never impacted by an office move which meant that the office move created no customer issues". Daniel added.
B2BE customers, suppliers and partners should note that all other B2BE Melbourne contact details remain unchanged.
To see a Google map of the office click here or view the image below.