B2BE launches new website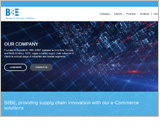 We are happy to announce the release of the new B2BE website, where you find yourself now. Our goal with this new website is to provide our visitors an easier way to learn about and understand our services, products and solutions that we offer within the e-Commerce space, particularly in the areas of document management, accounts payable and receivable and procurement environments. The new website we hope is easier to navigate and has made finding our products and solutions easier. Likewise, we hope easier to get in touch with us if you want to discuss your requirements.
Please also have a look at some of our new products including Automated Orders and Web EDI. These products can be combined with a number of our document management solutions and have been designed to improve your organisations efficiencies when dealing with your suppliers and customers.
We have some further product releases in the pipeline so keep an eye out for these by subscribing to our newsletter or we invite you to get in contact with us. Likewise, if you have any feedback on the new website we would welcome this as well.